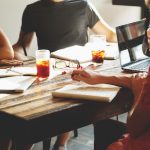 The Hull Law Firm is pleased to offer a free initial consultation for those considering mediation.
A mediator may offer creative solutions and help the parties "think outside the box." The role of the mediator is to listen and understand each parties' concerns, identify the issues, help prioritize these issues, brainstorm for solutions, and gain agreement.
Why mediate?
Mediation is a much quicker, much less expensive and more certain way to resolve conflicts. Mediation puts the resolution of your case in your hands. Lawsuits are always risky, and leave the resolution of the case in the hands of the court system.
Lawyers understand that there is no such thing as a "sure thing" in court. Lawsuits typically drag on for years. They are expensive, and just when you think you have won your case, there are always appeals.
On the other hand, in mediation the parties have the ability, with the assistance of their attorneys and a trained mediator, to craft a solution which is acceptable to all sides. Mediation is usually over in a day or less, and at a fraction of the cost of a lawsuit. The mediator does not make a decision for you — your case will not be resolved without your consent.
Mediation is Not Just for Court Cases
Many businesses and other institutions are learning that mediation can be a valuable tool for resolving conflicts outside of the typical court or litigation context. Whether among employees in the workplace or even in church or religious institutions, mediation can play a valuable role in bringing two sides to an agreement.
Is mediation successful?
Studies show that in mediations where both parties participate in good faith, 80% of cases are successfully resolved. The chances of getting your case are resolved are great. Many times after a trial both sides leave unhappy. In a successful mediation, all sides leave with an acceptable and certain resolution.
Please let us know if you are interested in working with a mediator for resolving your case, conflict, or dispute. We will be glad to speak with you for a free initial consultation.